Exclusively for Villa Albizi
Your Dinner is an intimate event five evenings a week, as is your lunch on Sunday, prepared by your in-villa chef and served by a professional waiter. Sample and celebrate the local cuisine in its most authentic form from the comforts of your own home. Chef Tommaso has expert knowledge of Tuscany's culinary traditions and uses only the freshest local produce. All the menus offer a selection of traditional Tuscan recipes, which you can explore in more detail in private cooking classes. Reserve on Villapp to coordinate requirements regarding the dinners included, discuss menus and special requirements ahead of time, and arrange any experiences or extra services.
Special dinners can be organized in the large outdoor spaces of the Villa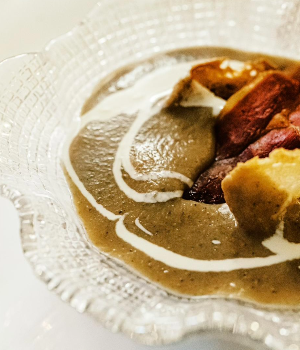 Entrèe
Challenge the traditional perception of Tuscan cuisine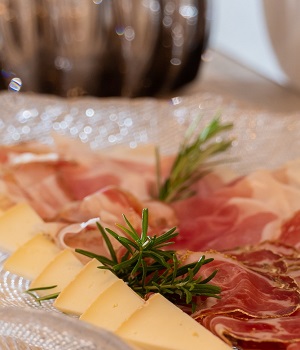 Appetizers
Inspiration at the service of the best producers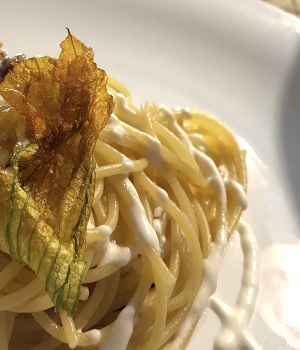 Main dishes
Tommaso's creations in phase with the seasons
Your dinner is an exciting new culinary experience curated by Chef Tommaso Mori
Our five dinners offer an Albizi tasting menu with traditional Tuscan signature dishes in a unique setting. A communal table welcomes guests to share an up-close, intimate and once-in-a-lifetime experience of one of the greenest kitchens in Chianti.
Reserve your Standard Menu or Experience Menu, each menu can be booked on VillApp

Practical information
The Standard Menu, a 3-course seasonal tasting, can be served with a combination of drinks from the private cellar.
The Experience Menu, a 4-course seasonal tasting, can be served as an alternative to the Standard menu.
The Brunch Menu, seasonal tasting every Sunday, your choice of 3 courses or 5 courses, will follow as you prefer.
Staffing and services
Chef services included:
Served dinner for 5 days a week on Saturday, Monday, Tuesday, Thursday and Friday.
Served lunch on Sunday.
Please note the cost of food and drinks is not included. The cost for food depends on the Menu Gourmet you choose in the VillApp.
Book the Service in VillaApp
You can book your Menu through your Login on VillApp. Login will be provided to you after confirming your Villa reservation. Once logged in, clicking on the Reserve button will confirm the order. You can remotely book your favorite Dinner and you can modify your reservation up to 10 days before the day of the activity. Payment is required in the Villa upon check-out by AmEx or Visa credit card.