Il Piccolo Principe Suite
>
>
>
Il Piccolo Principe Suite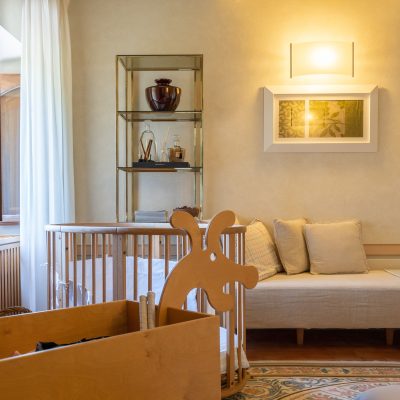 Measuring 47mq | 489sqft This Room twin combine a welcoming living area, with 2 single beds,  to an elegant bedroom with a king-bed. This exclusive is characterized by the original ancient terracotta, twentieth-century, of a soft Mediterranean yellow that reverberates the unique brightness of the Villa. Art and design interact naturally in the spaces of the suite, revealing the contemporary soul of the dwelling. A stone staircase and an elevator leads to the second level of the villa where we find this superior twin-bedrooms, with vestibole, and children's room. The internal view ensures peace and intimacy to the suite, revealing to the eye the eighteenth-century garden of the Villa.

The furniture, entirely signed by P&P, reflects the style and elegance that will accompany you in a comfortable and unforgettable journey, from the refined choice of Alinari's photos to the combination of furnishings, with custom-made elements such as the headboard, the lights or the mirror–screen designed by P&PAssciates
The Room can host up 4 guests /2 adults + 2 child
In the wide bathroom covered in Stone you will enjoy our exclusive line for bathroom products, by a luxurious range of Albizi amenities: Bath products Essenze Lorenzo Villoresi Firenze; Towels and Bathrobe. 
The suite is also available with a king-size with the possibility of having separate beds, and more 2 single beds in the living area.