Giovanna degli Albizzi Suite
>
>
>
Giovanna degli Albizzi Suite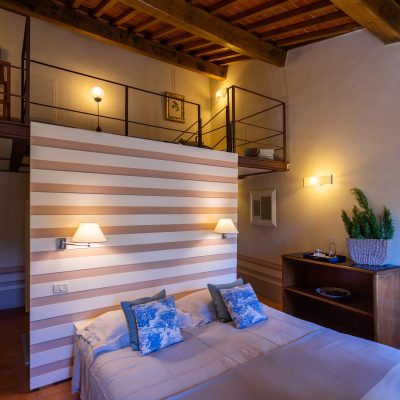 The 47sqm | 495sqft in the oldest heart of Villa Albizi, located on the second floor, the suite takes its name from Giovanna degli Albizzi, who had lived in these rooms, married Tornabuoni was a woman of the Florentine upper middle class of the fifteenth century, portrayed in numerous works of art by Domenico Ghirlandaio and Sandro Botticelli.
Like a fifteenth-century casket, the spaces reveal the treasures of art and design: the vaults and the original stairs and walls, the bérgeres by Rubelli, the large lamp by Flos, the walls with details in hand-painted striped fabric, up to the exposed beams of the roof, which overlooks the bed. 2 characteristic windows in late Renaissance style allow the external view on Via de' Pizzichi of the Borgo di Montefienali, on the main façade of Villa Albizi. The bathroom, in typical pietra serena, with original furnishings by Arte Linea, is inspired by the designer in geometric traits, in powder teal and bright blue, with precious details for the mirrors. A wide bathroom with precious stone coverings, complemented by a luxurious range of Albizi amenities: Bath products Essenze Villoresi Firenze; Towels and Bathrobe.
The Room can host up 4 guests/2 adults+2child
The suite is also available with a king-size bed divisible into two single. 
Elegantly furnished, this Suite can become quadruple room thanks to the possibility of having separate beds, and they consist of an entrance hall, a bedroom, a mezzanine with two single beds, and a bathroom with Stone covering.