A special occasion for you
THIS OUTDOOR OVEN AND ITS IMPRESSIVE SHADED DINING AREA
Have you ever eaten a Pizza in a private garden in Chianti?  here in Albizi without a doubt, is a memorable scenery where nature, food and love for beauty walk hand in hand… If there's a birthday, wedding anniversary or important proposal on the horizon, why not let the Villa Albizi team organize an evening to remember… to ensure your special occasion goes way beyond… Well beyond 16 seats to sit!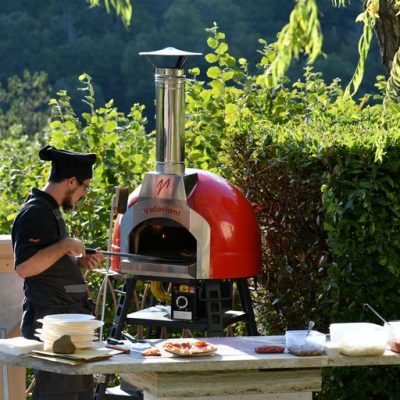 It's time to let go
The garden continues to play a vital role in the Villa, providing you all, the guests, with brilliant hours to celebrate the allure of possibilities…Margherita or Naples? The oven together with an airy poolside bar where it is served with a quick spritz, fruit juices or freshly made cocktails, will accompany the tempting pizzas, while there are those who relax on chic outdoor sofas, hidden under towering pine trees prunes or in leafy niches or those who prefer to sit at the beautiful table on the terrace.
Selection of 3 types of pizzas
Queen Margaret
Pizza Naples
Capricciosa pizza
Availability from Sunday to Friday from 6 pm

Practical information
What's included: Private Experience Dinner Pizza in the pool&garden
Planning
6pm Departure with the Chef to prepare the Pizza
7pm Aperitif
8pm Pizza Dinner
Available on request Music / or Live music
Reserve service in VillaApp
You can reserve your pizza dinner through your Login on VillApp. The Login will be provided to you after confirming the reservation of the Villa. By clicking on the Reserve button you will actually confirm the order. Payment is required in the Villa upon check-out, with credit card, AmEx o Visa.